Charitable Giving
Each year, the Gorham Savings Bank Maine Marathon/Half Marathon/Relay organizers select local charities to be the beneficiary of the race proceeds. For 2018, there were 3 primary beneficiaries: Greater Portland Health, Ronald McDonald House Charities® of Maine, and The Locker Project. We expect to choose our primary beneficiaries for 2019 by mid-January.

Greater Portland Health
Greater Portland Health is a federally qualified health center whose mission is to provide high-quality, patient-centered healthcare that is accessible, affordable, and culturally sensitive. They provide medical, behavioral health, oral health, substance use treatment, chronic and infectious disease management, osteopathic manipulative treatment, and psychiatric services at nine locations.
Ronald McDonald House Charities® of Maine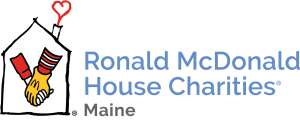 Ronald McDonald House Charities® of Maine sponsors facilities that provide comfort for the families of pediatric patients and supports programs that directly improve the health and well-being of all children.  The Ronald McDonald House provides a special place to call home where families lean on one another for support, volunteers channel their passion for helping people, staff are program champions, and donors help keep our doors open all year long.

The Locker Project
The mission of the Locker Project is to connect food-insecure children in Maine with nourishing food to improve their learning capacity, health, and future. The Locker Project manages food pantries in pre-schools and K-12th grade schools in Portland, South Portland, Westbrook, Saco, and Raymond. Additionally, every month the Locker Project distributes over 12,000 lbs of donated fresh produce, meats, and bread to students in their schools for them to take home at night and on the weekends and long school breaks.
The Maine Marathon was excited to partner with these three organizations and support them in the great work they're doing in the state of Maine.

Our primary beneficiary for 2017 was the Cromwell Center for Disabilities Awareness, whose mission is to promote safe, respectful and inclusive schools and communities. Click here to view the full Maine Marathon charity report.
The 2016 beneficiary, the Dream Factory of Maine, received $50,000 from race proceeds and $4,000 from additional runner donations.
In addition to beneficiaries identified by the race organization, runners can set up their own fundraising programs. In 2016, a group of 90 runners raised more than $157,000 on behalf of the Josephine and John Marr Alzheimer's Research Fund at Brigham and Women's Hospital, and another team raised $30,000 for the Maine Children's Cancer Program.
We have a long history of financially supporting the community, donating more than $4,000,000 since 1997. In 2016, to celebrate our 25th anniversary, the Maine Marathon donated more than $200,000 to over 50 different organizations in the greater Portland area.
Past Contributions
| Year | Beneficiary | Amount |
| --- | --- | --- |
| 2018 | Ronald McDonald | $21,000 |
| | Great Portland Health | $20,000 |
| | The Locker Project | $11,000 |
| | Portland Little League | $6,000 |
| | Maine Children's Cancer Program | $5,000 |
| | Cumberland Police Youth Services | $3,000 |
| | Falmouth Police Youth Services | $3,000 |
| | Yarmouth CAN | $3,000 |
| | The Cromwell Center | $2,250 |
| | Bicycle Coalition of Maine | $1,500 |
| | UNE Men's Ice Hockey Team | $1,500 |
| | UNE Women's Ice Hockey | $1,500 |
| | Dream Factory of Maine | $1,200 |
| | Cheverus High School | $1,000 |
| | | Almost $21,000 to the organizations below |
| | Baxter Academy | |
| | Brigham & Women's Hospital | |
| | Cheverus High School | |
| | Deering High School XC Team | |
| | Dream Factory of Maine | |
| | Falmouth Boys & Girls XC TeamsÊ | |
| | Falmouth Fire Scholarship | |
| | Girls on the Run | |
| | Good Shepherd Food Bank | |
| | Greely Cross Country Boosters | |
| | La Puerta Abierta | |
| | Maine Children of Little Wanderers | |
| | Maine Children's Cancer Program | |
| | Maine Track Club | |
| | Mt Ararat Cross Country | |
| | NYA Field Hockey | |
| | Portland High School Boosters | |
| | Portland YMCA | |
| | St Bartholomew ChurchÊ | |
| | St Mary's Church | |
| | The Cromwell Center | |
| | USM Cross Country | |
| | C60 | |
| | USM Women's Track Office | |
| | Yarmouth Girls XC Team | |
| 2017 | Marr Foundation | $193,000 |
| | Cromwell Center | $50,000 |
| | Maine Children's Cancer Program | $35,000 |
| | Maine Children's Cancer Program | $5,300 |
| | Cumberland Police Youth Services | $3,000 |
| | Falmouth Police Youth Services | $3,000 |
| | Yarmouth CAN | $3,000 |
| | Adaptive Outdoor Education | $1,000 |
| | Bicycle Coalition of Maine | $1,000 |
| | Girls on the Run | $1,000 |
| | My Teen Place | $1,000 |
| | Pine Tree Society | $1,000 |
| | Portland Wheelers | $1,000 |
| | | $39,700 Donated to the charities listed below |
| | Brigham & Women's Hospital | |
| | Cheverus Cross Country | |
| | Deering High School XC Team | |
| | Dream Factory of Maine | |
| | Falmouth Boys & Girls XC Teams | |
| | Falmouth Foreside Fire Company | |
| | Greater Portland Health | |
| | Greely Cross Country | |
| | Gym Dandies | |
| | Maine Track Club | |
| | MEFH | |
| | Mt Ararat Cross Country | |
| | NYA Field Hockey | |
| | Portland High School Boosters | |
| | Portland YMCA | |
| | Project Fairness | |
| | St Bartholomew Church | |
| | St Mary's Church | |
| | The Maine Girls' Academy | |
| | UNE Men's Ice Hockey Team | |
| | UNE Women's Ice Hockey | |
| | United Way of York County | |
| | USM Cross Country | |
| | USM Women's Track Office | |
| | Yarmouth Girls XC Team | |
| 2016 | Josephine and John Marr Alzheimer's Research Fund | $203,000 |
| | Dream Factory of Maine | $54,000 |
| | Maine Children's Cancer Program | $35,000 |
| | Honor Flight Maine | $17,000 |
| | H.S. and college sports programs | $13,000 |
| | Grahamtastic Connection | $10,500 |
| | Maine Children's Home for Little Wanderers | $10,000 |
| | Portland Press Herald Toy Fund | $10,000 |
| | Portland Little League | $5,000 |
| | Falmouth Police Youth Services | $5,000 |
| | Cumberland Police Youth Programs | $5,000 |
| | Yarmouth YCAN | $5,000 |
| | Biddeford Community Action Food Pantry | $5,000 |
| | Biddeford Seeds of Hope Food Pantry | $5,000 |
| | South Portland Food Cupboard | $5,000 |
| | Westbrook Food Pantry | $5,000 |
| | Stroudwater Food Pantry | $5,000 |
| | Camp No Limits | $5,000 |
| | Center for Grieving Children | $5,000 |
| | Garry Owen MC—New Home for Homeless Veterans | $5,000 |
| | Maine Running Hall of Fame | $5,000 |
| | Shawnee Peak Adaptive Ski Program | $5,000 |
| | AG's Wheelchair Accessible Van | $4,898 |
| | Cromwell Center | $2,050 |
| | Locker Project | $2,000 |
| | Project Playpack—Helping Seniors | $2,000 |
| | STRIVE | $1,000 |
| | RRCA Kids Run the Nation | $1,000 |
| | AMTA Maine | $1,000 |
| | Camp Adventure | $1,000 |
| | Camp Sunshine | $1,000 |
| | Eastern Trails Close the Gap | $1,000 |
| | Girls on the Run | $1,000 |
| | Riding to the Top | $1,000 |
| 2015 | Josephine and John Marr Alzheimer's Research Fund | $140,000 |
| | Robbie Foundation | $57,125 |
| | Maine Children's Cancer Program | $35,000 |
| | H.S. and college sports programs | $11,800 |
| | Maine Army National Guard | $4,000 |
| | Portland Bayside Little League | $3,000 |
| | Falmouth Police Department (for youth programs) | $3,000 |
| | Cumberland DARE program (for fuel assistance programs) | $3,000 |
| | Yarmouth Community Food Pantry | $3,000 |
| | Camp to Belong Maine | $2,500 |
| | Cromwell Center | $1,000 |
| | STRIVE | $1,000 |
| | RRCA Kids Run the Nation | $1,000 |
| 2014 | Robbie Foundation | $54,355 |
| | Maine Children's Cancer Program | $35,000 |
| | City of Portland | $10,000 |
| | Camp to Belong Maine | $7,000 |
| | Dream Factory of Maine | $5,000 |
| | Camp Susan Curtis | $5,000 |
| | Maine Army National Guard | $4,000 |
| | Portland Bayside Little League | $3,000 |
| | Portland Youth Summer Track | $3,000 |
| | Falmouth Police Department (for youth programs) | $3,000 |
| | Cumberland DARE program (for fuel assistance programs) | $3,000 |
| | Yarmouth Community Food Pantry | $3,000 |
| | One Fund Boston | $1,000 |
| | Cromwell Center | $1,000 |
| | RRCA Kids Run the Nation | $1,000 |
| | Miscellaneous Donations | $5,925 |
| 2013 | STRIVE | $58,060 |
| | The Leukemia & Lymphoma Society | $50,000 |
| | Maine Children's Cancer Program | $35,000 |
| | Shawnee Peak Adaptive Ski Program | $5,000 |
| | Maine Army National Guard | $4,000 |
| | Falmouth Police Department (for youth programs) | $3,000 |
| | Cumberland DARE program (for fuel assistance programs) | $3,000 |
| | Portland Bayside Little League | $2,500 |
| | City of Portland | $2,400 |
| | Yarmouth Community Food Pantry | $1,000 |
| | Portland Boys and Girls Club | $1,000 |
| | My Place Teen Center | $1,000 |
| | Grahamtastic Connection | $1,000 |
| 2012 | STRIVE | $60,000 |
| | The Leukemia & Lymphoma Society | $60,000 |
| | Maine Children's Cancer Program | $35,000 |
| | Center for Grieving Children | $7,000 |
| | Girls on the Run Maine | $6,000 |
| | Maine Army National Guard | $4.00 |
| | Portland Bayside Little League | $2,500 |
| | Falmouth Police Department (for youth programs) | $2,500 |
| | Cumberland DARE program (for fuel assistance programs) | $2,500 |
| | Yarmouth YCAN (for fuel and living assistance programs) | $2,500 |
| | City of Portland Recreation – Summer Track Program | $1,250 |
| | City of Portland Mitchell A. Kessler Scholarship Fund | $1,250 |
| 2011 | The Leukemia & Lymphoma Society | $120,000 |
| | Camp To Belong Maine | $35,000 |
| | Maine Children's Cancer Program | $20,000 |
| | Center for Grieving Children | $10,000 |
| | Maine Army National Guard | $5,000 |
| | Portland Bayside Little League | $2,000 |
| | Portland Police Athletic Programs for Youth | $2,000 |
| | Falmouth Police Department (for youth programs) | $2,000 |
| | Cumberland DARE program (for fuel assistance programs) | $2,000 |
| | Yarmouth YCAN (for fuel and living assistance programs) | $2,000 |
| | RRCA Kids Run the Nation program | $1,000 |
| 2010 | The Leukemia & Lymphoma Society | $120,000 |
| | Camp To Belong Maine | $35,000 |
| | Center for Grieving Children | $1,500 |
| | Maine Children's Cancer Program | $1,500 |
| | Portland Bayside Little League | $1,500 |
| | Portland Parks & Recreation Youth Programs | $1,500 |
| | Falmouth Police Department (for youth programs) | $1,500 |
| | Cumberland DARE program (for fuel assistance programs) | $1,500 |
| | Yarmouth YCAN (for fuel and living assistance programs) | $1,500 |
| | Maine Running Hall of Fame | $1,500 |
| 2009 | The Leukemia & Lymphoma Society | $160,000 |
| | Center for Grieving Children (total includes $25,000 raised by participants) | $50,000 |
| | Nativity Preparatory School of Boston | $35,000 |
| | Maine Army National Guard | $3,000 |
| | City of Portland | $1,000 |
| | Portland Bayside Little League | $1,000 |
| | Portland Parks & Recreation | $1,000 |
| | Falmouth Police Department (for youth programs) | $1,000 |
| | Cumberland DARE program (for fuel assistance programs) | $1,000 |
| | Yarmouth YCAN (for fuel and living assistance programs) | $1,000 |
| 2008 | The Leukemia & Lymphoma Society -- Massachusetts chapter | $200,000 |
| | Center for Grieving Children (total includes $15,000 raised by participants) | $50,000 |
| | The Leukemia & Lymphoma Society -- Rhode Island chapter | $23,000 |
| | Maine Army National Guard | $3,600 |
| | Portland Schools | $2,000 |
| | Camp To Belong | $1,500 |
| | Miscellaneous Donations | $3,550 |
| 2007 | The Leukemia & Lymphoma Society -- Massachusetts chapter | $200,000 |
| | The Leukemia & Lymphoma Society -- Rhode Island chapter | $65,000 |
| | WinterKids | $35,000 |
| | Portland Schools (for AED Unit) | $1,500 |
| | Portland Parks & Recreation | $600 |
| | Portland Bayside Little League | $500 |
| 2006 | The Leukemia & Lymphoma Society -- Massachusetts chapter | $260,000 |
| | The Leukemia & Lymphoma Society -- Rhode Island chapter | $65,000 |
| | WinterKids | $38,750 |
| | Portland Parks & Recreation | $1,000 |
| | Portland High athletic scholarship | $500 |
| | Deering High athletic scholarship | $500 |
| | Portland Bayside Little League | $500 |
| 2005 | The Leukemia & Lymphoma Society | $273,000 |
| | Camp Sunshine | $45,000 |
| | Timothy C. McAnany Scholarship | $1,000 |
| | Portland Little League | $500 |
| | Portland Parks & Recreation | $500 |
| | Maine Army National Guard Family Program Fund | $500 |
| 2004 | The Leukemia & Lymphoma Society | $170,000 |
| | Camp Sunshine (from race proceeds) | $40,000 |
| | Camp Sunshine (raised by participants) | $34,700 |
| | Portland Little League | $500 |
| | Portland Parks & Recreation | $500 |
| | Portland Fire Department Burn Foundation | $500 |
| | Center for Grieving Children (in name of Portland Police Department) | $250 |
| | Make-A-Wish Foundation (in name of Portland Police Department) | $250 |
| 2003 | The Leukemia & Lymphoma Society | $204,000 |
| | The Jason Program | $25,000 |
| | Portland Little League | $250 |
| 2002 | The Leukemia & Lymphoma Society | $187,000 |
| | The Jason Program | $16,000 |
| | Anonymous donor | $13,000 |
| | Portland Parks & Recreation | $250 |
| | Portland Little League | $250 |
| 2001 | The Leukemia & Lymphoma Society | $180,000 |
| | Maine Children's Cancer Program | $18,000 |
| | Portland Parks & Recreation | $250 |
| | Portland Little League | $250 |
| 2000 | The Leukemia & Lymphoma Society | $30,000 |
| | Maine Children's Cancer Program | $10,000 |
| | Portland Parks & Recreation | $250 |
| | Portland Little League | $250 |
| 1999 | The Leukemia & Lymphoma Society | $10,000 |
| | Center for Grieving Children | $4,000 |
| | Portland Parks & Recreation | $250 |
| 1998 | Cumberland Dare | $500 |
| | Falmouth Educational Society | $500 |
| | Beth Congden Memorial Pathway | $500 |
| | Portland Parks & Recreation | $500 |
| 1997 | Casco Bay YMCA | $3,500 |
| | Portland Parks & Rec | $250 |
| Total | | over $4 million |