Maine Marathon Relay Information
Not sure you're ready for a full marathon? Share the work with a team.
Groups of 2-4 individuals can put together a team and cover the distance as a relay. Teams must have a minimum of two members and a maximum of four members. Each member must run one full leg, but any member can run up to three legs in any order chosen.
There are four relay legs of varying distances from 5.7 to 8.9 miles, as follows:
Leg 1: 5.9 miles
Leg 2: 8.9 miles
Leg 3: 5.7 miles
Leg 4: 5.7 miles
Each team will receive four bibs, all of which will have timing tags on the back. The four bibs for each team will be identical (same bib number), and it doesn't matter which team member wears which bib. However, it's important that when waiting for a teammate to arrive at one of the exchange points, please stay away from the timing mats that will be used to record times for each relay leg — otherwise you might trigger a false read and cause your team's split times to be inaccurate.
Bibs should be worn on the front and be clearly visible. A wrist "slap" bracelet will serve as your baton and should be passed to your teammate at the exchange point. The first exchange will take place after the Leg 1 runner crosses the timing mats, and the same is true of the second and third exchanges.
If you're on a team with two or three members and you don't need to make an exchange, you should still cross the timing mats to get a split time for that leg, and then proceed to the next leg.
We ask that the team captain or another team member with a valid ID pick up bibs/packets/shirts for the entire team, rather than having each individual team member pick up their own bib. If you're picking up bibs for someone else's team, you'll need an email or signed note from the team captain giving you permission to pick up those bibs.
It is the responsibility of each team to find transportation to and from each relay exchange point. Please take note of road closures when planning your arrival and departure from the exchange points, and please use extreme caution when traveling on roads that are part of the race course, especially Route 88.
Download the Maine Marathon Relay Map (PDF)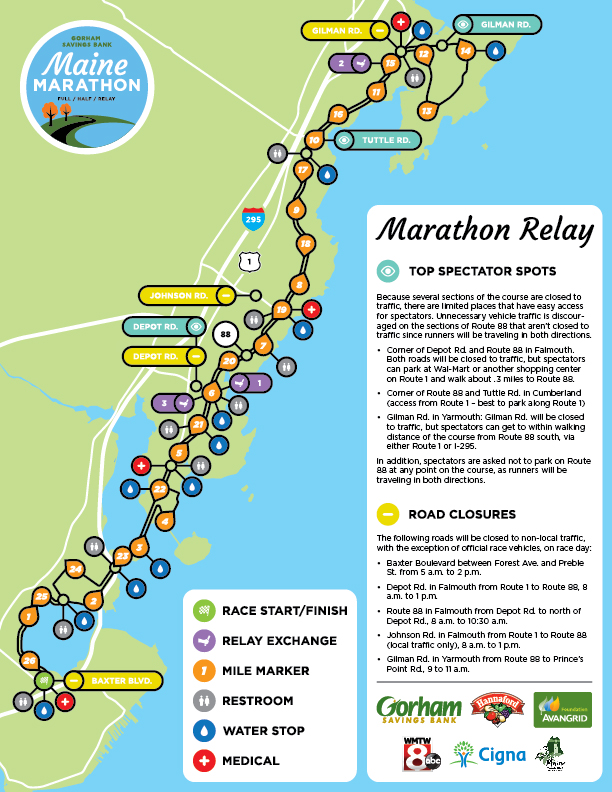 See directions to each exchange point. We have special permission from Sullivan Tire and Cunningham Security to use their parking lots. Please make sure clothing, cups, bottles, etc. are not left behind.