Registration Closed for 2014
We've reached our cap of 3,500 runners for the 2014 Maine Marathon and Half Marathon, so registration is now closed. Mail-in entries postmarked later than Aug. 25 will not be accepted.
Support a Good Cause
Proceeds from this year's race will go to benefit Robbie Foundation (Facebook page), an organization designed to bridge the gap for children with developmental disabilities by funding adaptive equipment, assistive technology and therapy treatment not covered by insurances. Also, several organizations participate each year to raise money for their causes, including the Leukemia and Lymphoma Society's Team in Training, the Center for Grieving Children and the Maine Children's Cancer Program.
Kids' Maine Marathon Mile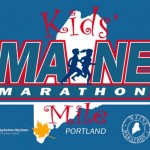 Big Brothers Big Sisters of Southern Maine will again host the Kids' Maine Marathon Mile on Saturday, October 4, at 1 p.m. at the Maine Marathon starting line. Prizes and awards will be given. In addition to supporting healthy activities among families, adults and children, all the funds raised from the two events will go directly to supporting Big Brothers Big Sisters' important Mentoring Programs.
In addition to the mile race, there will be a kids' fun run at 12:45 p.m., and a Walk for Kids' Sake on the Back Cove trail at 11 a.m.
Visit the event website for more information.