Races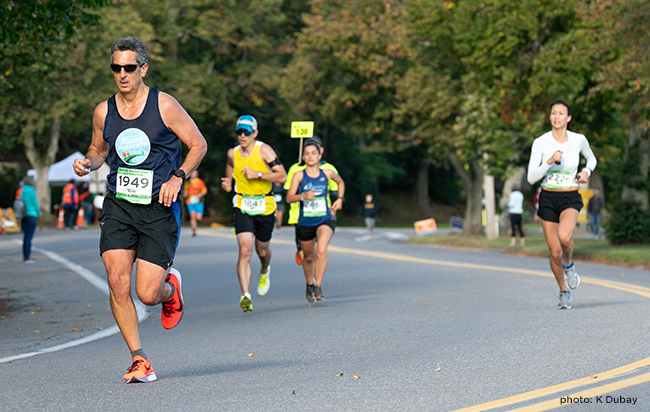 Founded in 1979, the Gorham Savings Bank Maine Marathon, Half Marathon and Marathon Relay is one of New England's longest running marathon events. Wrapping around Portland's Back Cove neighborhood and up the scenic Maine coast to Yarmouth, this out-and-back course is known for its rolling hills, peak fall foliage and stunning views of Portland and the Atlantic Ocean.
Beyond the beautiful scenery, the Maine Marathon is known for its amazing people. There are bands, entertainers and enthusiastic fans who line the course to cheer on runners of all levels. The all-volunteer staff – led by the dedicated members of the Maine Track Club – has earned a reputation for organizing and executing one of the most well-run events in the country.
You can't beat Maine in the fall, and the Maine Marathon is a must for runners of all levels. Plus, because this nonprofit race donates roughly 40% of its gross revenue to charity, your participation helps some great causes.
The race is comprised of three unique events, all of which start and finish along Baxter Boulevard in Portland's scenic Back Cove.
Marathon
A USATF certified course and Boston Marathon qualifier, the Maine Marathon is a runner-friendly, scenic marathon course that attracts racers of all levels, including elite runners from Maine, across America and around the world.
Learn more about the Maine Marathon
Half Marathon
USTAF certified, the Maine Half Marathon follows the same course as the marathon for the first 6.5 miles before breaking off and returning back toward Portland.
Learn more about Maine Half Marathon
Marathon Relay
Perfect for groups and charity fundraisers, this event allows teams of up to four people cover separate legs of the course. Relay exchange stations and convenient shuttles make this event a favorite.
Learn more about the Maine Marathon Relay