Directions & Parking for the Maine Marathon
Directions
The race starts and finishes on Baxter Boulevard, between Forest Avenue and Preble Street.
The USM garage will be open, free of charge, on both Saturday and Sunday. The garage is on Bedford Street, which is the first left-hand turn off Forest Avenue after you take Exit 6B from I-295. Additional parking is available nearby at the UMaine School of Law, the Back Cove lot, or the AAA lot.
On race day, we suggest you plan to arrive by 7 a.m. because we expect the USM garage to fill early. Also, traffic sometimes backs up on Forest Avenue. and onto Route 295. Consider alternate routes to the USM campus, such as Deering Avenue. If you arrive later than 7 p.m. or if the Bedford Street garage becomes full, we recommend parking in the AAA lot on the corner of Marginal Way and Preble Street, about a 5-minute walk from the start line.
Please do not park in the Hannaford shopping center lot, which is reserved for store customers.

NOTE: When you leave the garage, do not take the exit stairways; instead take the entrance into the Abramson building and use the Bedford Street overpass to access the sidewalk on the opposite side of the street from the garage. The sidewalk on the garage side of Bedford Street is closed. Your cooperation will help the flow of traffic into the garage.
Download the Maine Marathon Parking Map (PDF)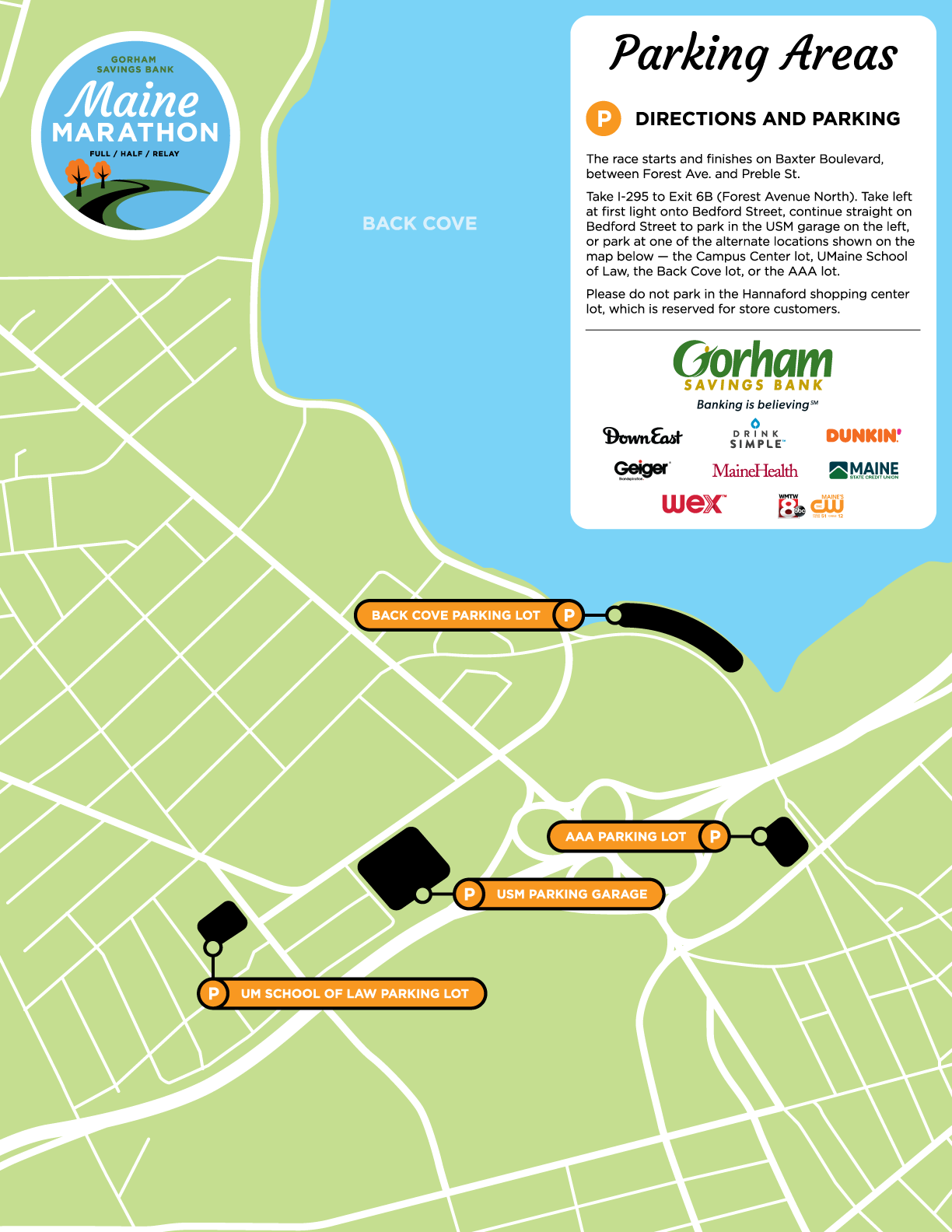 Bike Parking at USM
If you live locally, we encourage you to ride your bike to the expo and on race day to run, volunteer, or cheer! Biking reduces traffic congestion and helps reduce the race's carbon footprint. The University of Southern Maine has bike racks located across the Portland campus that you can use. Be sure to bring a lock to keep your bike secure. And please do not park your bike in or around the Start/Finish area of the race.
Here's a list of bike rack locations on the USM Portland campus:
Sullivan Gym

Science Building
Payson Smith Hall (Side and Front Entrance)
Maine Law Building (Multiple Bike Racks)
Glickman Family Library
Wishcamper Center
Abromson Community Education Center
Woodbury Campus Center
Luther Bonney Hall
TOP FIVE REASONS TO RIDE YOUR BIKE TO THE RACE
Reduce your CO2 footprint
Fun way to warm up and cool down
No stress over finding parking

Convenient parking on the USM campus

It's free!!!