Maine Marathon, Half-Marathon, and Relay Beneficiary Application
Background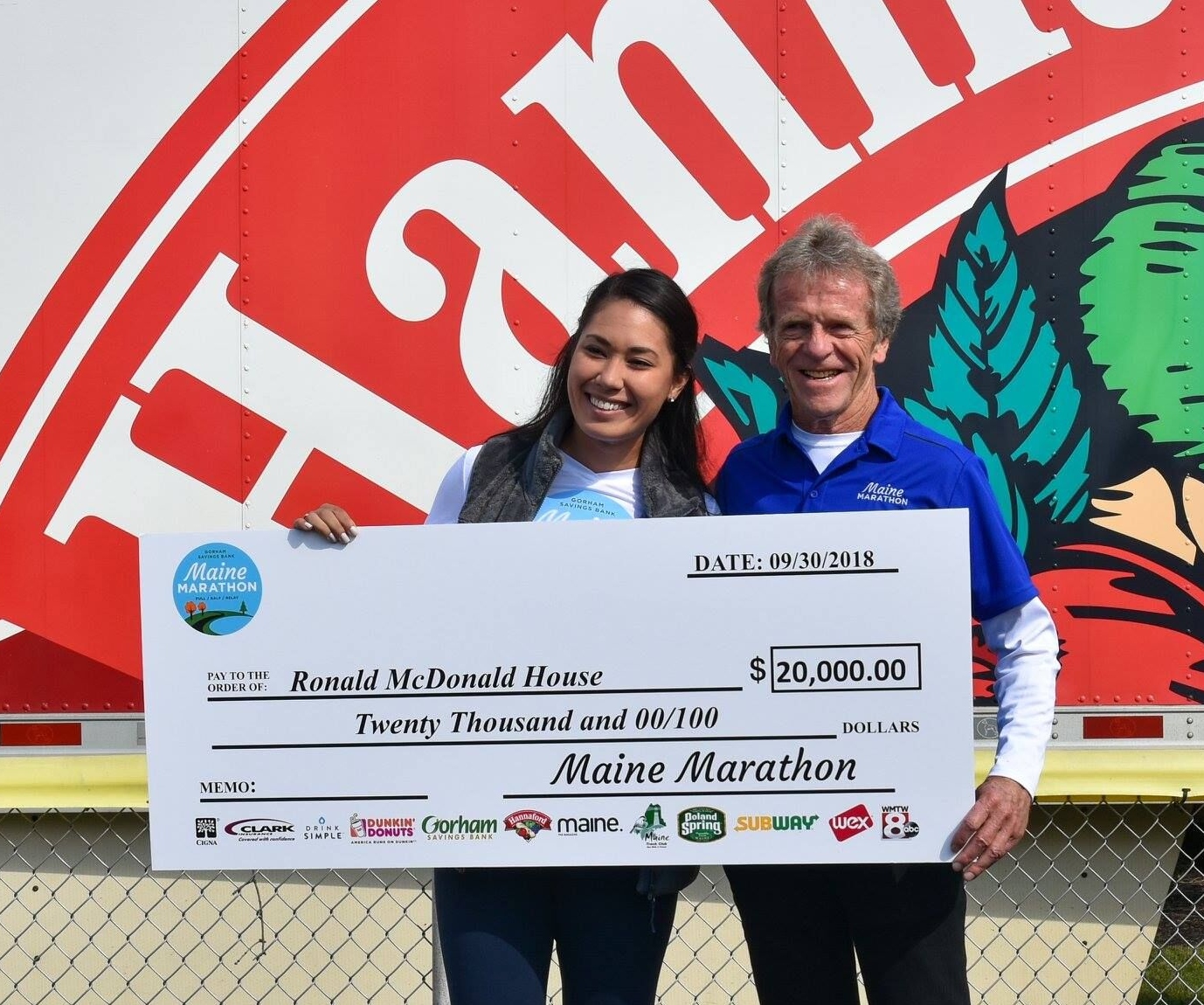 The Gorham Savings Bank Maine Marathon, Half Marathon, and Marathon Relay has grown enormously over the past several years. Efforts to market the event as a destination race have paid off, and in 2019, we had more than 3,800 entrants, including 181 relay teams.
Three events are conducted simultaneously: a marathon (26.2 miles), a half marathon (13.1 miles), and a marathon relay for teams of two, three or four runners. Runners, walkers, and wheelchair athletes are all welcome and everyone who finishes is a winner for achieving his or her personal goals. The overriding mission of the Maine Marathon is to hold a quality event that runners and spectators will appreciate and support while raising funds for local Maine charities.
The Maine Marathon is managed and organized through the generous efforts of the Maine Track Club. The club, which is the largest running club in Maine with more than 500 members, was formed in 1979 as a non-profit volunteer organization.
For the Maine Track Club, this is our signature event. We are very proud to watch this event grow and flourish. In 2019, about $120,000 was raised for charities through sponsorships and race registrations. Since 1997, the Maine Marathon, Half Marathon, and Marathon Relay and its participants have raised more than $5,200,000 for charity. Each year, about 40% of gross revenue is donated to charities. By pulling together funds from race registrations, individual donations and sponsors, we are able to have a real impact in the community.
All profit after race expenses is donated. The amount varies based on revenues and expenses. Primary beneficiaries receive $20,000 or 15% of average revenues over the last three years, whichever amount is smaller. The donations will be delivered in four payments; $18,500 shortly after the 2020 Maine Marathon and $500 annually following the Maine Marathon in 2021, 2022 and 2023. Beneficiaries have the option to continue receiving $500 donations by providing volunteers after 2023.
In 2020, we chose seven beneficiaries – Teens to Trails, Wayside Food Programs, Team Long Run, Port Resources, Pihcintu Multinational Girls Chorus, Shawnee Peak Adaptive Ski, and Spurwink.
Eligibility Requirements
To apply for a donation, you must meet the following requirements:
501c3 tax exempt organization
The primary mission or cause of the organization must support children, fitness, wellness or the environment
Provide services in the State of Maine
Primary beneficiaries must be able to send a representative to three race committee meetings scheduled in August and September
Primary beneficiaries must be able to provide 50-80 volunteer hours on race weekend, typically the first weekend of October, for four years, with the option to continue beyond four years. The 2021 Maine Marathon is on Sunday, Oct. 3.
Primary beneficiaries must have staff, board members or volunteers willing and able to solicit sponsorships for the race
Primary beneficiaries must have not been a primary beneficiary in the last five years
The following organizations are ineligible:
Political organizations or programs
Organizations which discriminate
Public or private schools (this does not apply to school affiliated nonprofit organizations like clubs and teams)
Deadline and Process
The application period for the 2021 race is now closed. The application period for 2022 beneficiaries closes on Jan 1, 2022 and the beneficiaries will be chosen in January 2022. If you do submit an application for 2021, please send us a reminder email in November 2021 so that we can confirm your application was not misplaced.
Complete application (below) and email any attachments to Bob Dunfey, Race Director at mainemarathon@gmail.com
The use of the donation is unrestricted. The beneficiary can use the donation for operations, new programs or capital projects. A committee of volunteers from the Maine Marathon, the Maine Track Club and from the community will evaluate the application and select the nonprofits which will receive race proceeds. The committee will meet in person with the potential candidates for the primary donations. Site visits may be requested.
The beneficiaries for the Maine Marathon 2022 will be announced in January 2022. If your organization is not selected there may be opportunities to provide volunteers and receive a donation for this support.