Maine Marathon Race Information
The Maine Marathon's course is USATF certified (#ME23011BK) and an official Boston Marathon qualifying event. The out-and-back course is moderately hilly with beautiful views of the water, the Portland skyline and plenty of fall foliage.
The race is spectator-friendly! Have your friends and family come for a weekend in Portland then cheer you along the course and meet up with you at the finish line. See details below for tracking racers.
Start/Finish
The race will start and finish at Baxter Boulevard, between Forest Ave. and Preble St. All races start at 7:45 a.m.
An early start at 6 a.m. is available only for marathon walkers who expect to maintain a pace of 13 minutes per mile or slower. Anyone who starts early will not be eligible for awards, and early starters who finish in less than 5:30 will be disqualified. If you're a marathon walker who plans to take advantage of our early start time, we suggest that you pick up your packet on Saturday if at all possible.
Please Note: No dogs, baby strollers or bicycles are allowed.
About the Maine Marathon Course
To study the course, you can download the MapMyRun course to your phone, download our course map PDF, or see the turn-by-turn directions below.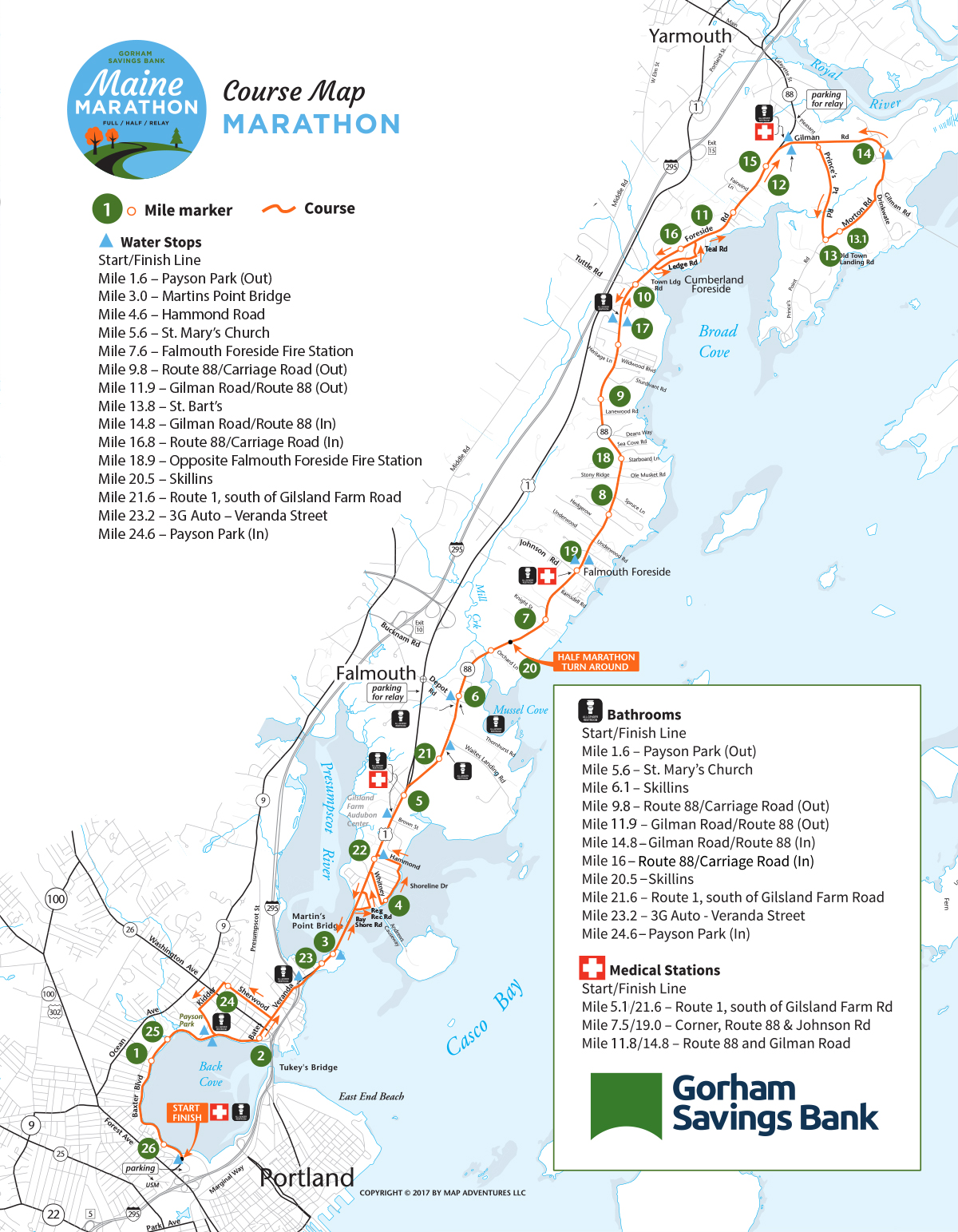 View, save or print this map as a PDF
Elevation Map


Turn-by-turn directions for the Maine Marathon
Race starts on Baxter Blvd., near Pedro Field
First 2 miles on Baxter Blvd., around scenic Back Cove
Left turn onto Bates St.
Cross Washington Ave. onto Veranda St.
Veranda St. becomes Route 1 North
Cross Martin's Point Bridge
Immediately at the end of the bridge turn right on Bay Shore Drive
Left onto Reg Roc Rd.
Right onto Route 1
Right onto Phillips Rd., followed by immediate right onto Whitney Rd.
Left onto Shoreline Dr.
Left onto Hammond Rd.
Right onto Route 1
Right onto Route 88
Right onto Ledge Rd
Left onto Teal Drive
Right onto Route 88
Right onto Gilman Rd.
Right onto Prince's Point Rd.
Left onto Morton Rd.
Left onto Drinkwater
Left onto Gilman Rd.
Return on Gilman Rd. to Route 88
Left onto Route 88
Left onto Route 1
Straight onto Veranda St.
Right onto Sherwood St.
Left onto E. Kidder St.
Cross Washington Ave. onto W. Kidder St.
Enter Payson Park, turn left
Left at fork to Baxter Blvd.
Right onto Baxter Blvd.
Finish at start location
Runner Tracking
You can sign up for your own results notifications—or friends and family members can sign up on the Find a Participant page  as well as sign up for text and/or email notifications after they complete the race.
GPS tracking is also available through an app called RaceJoy. RaceJoy uses a cellphone's GPS signal to track participants wherever they are on the course, and friends and family members can send virtual cheers during the race. To use RaceJoy, race participants must download the RaceJoy app and carry their cell phone during the race, and anyone who wants to follow a participant also must download the RaceJoy app.
See the RaceJoy information guide for more details.