Half Marathon Race Information
The half marathon takes place alongside the Maine Marathon. Enjoy the Back Cove, views of Casco Bay and fall foliage along the out-and-back route. All three races are together for the first 6.5 miles before the half marathon heads back to Portland. The courses features a mixture of rolling hills and flat sections, but start and finish with two flat miles along Baxter Boulevard.
The half marathon course is well supported with water stops with Gatorade (lemon-lime Endurance Formula) located approximately every two miles. The USATF certification number for the half marathon number is ME12011JK.
About the Half Marathon Course
The half marathon starts at 7:45 a.m. and there is no early start option for this race. Please Note: No dogs, baby strollers or bicycles are allowed.
There are many ways to study the course. Check out the Maine Marathon Half Marathon Map (PDF), ViewTheRace.com video, download the MapMyRun course to your phone, download our printable map, or see the turn-by-turn directions below.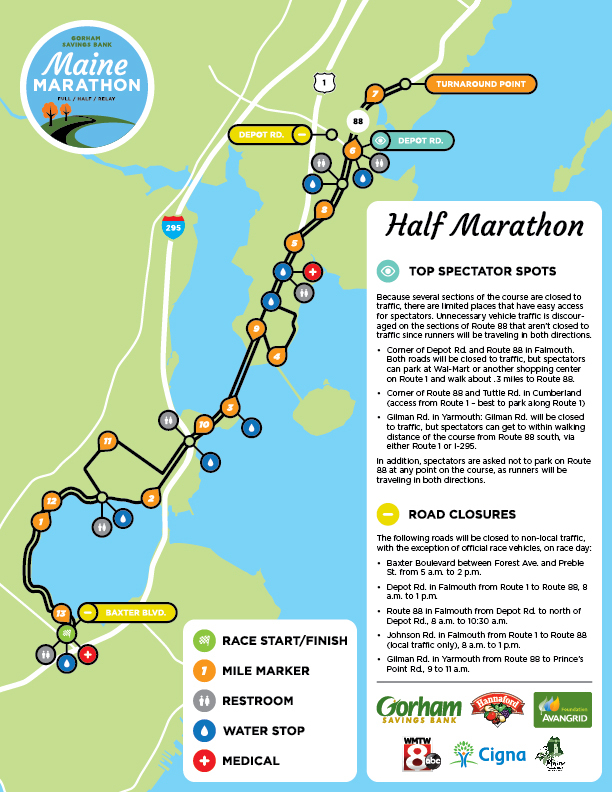 Turn-by-turn directions for the half marathon
Race starts on Baxter Blvd., near Pedro Field
First 2 miles on Baxter Blvd., around scenic Back Cove
Left turn onto Bates St.
Cross Washington Ave. onto Veranda St.
Merge onto Route 1 North
Cross Martin's Point Bridge, then right onto Phillips Rd., followed by immediate right onto Whitney Rd.
Left onto Shoreline Dr.
Left onto Hammond Rd.
Right onto Route 1
Right onto Route 88
Continue on Route 88 until turnaround cone
Left onto Route 1
Straight onto Veranda St.
Right onto Sherwood St.
Left onto E. Kidder St.
Cross Washington Ave. onto W. Kidder St.
Enter Payson Park, turn left
Left at fork to Baxter Blvd.
Right onto Baxter Blvd.
Finish at start location